Recipe: Watermelon Gazpacho

2020 Reunion Cruise: Exploring Greece & Turkey

July 16, 2019 By: Bob Binder, President & CEO
Read More

Brazil's Exploding Culinary Scene:
Rio de Janeiro, São Paulo & Beyond

July 12, 2019 By: Bernhard Klotz, Vice President of Culinary Operations
Read More
Introducing 3 New Canada & New England Culinary Discovery Tours
From Boston Public Market to artisanal breweries and gourmet shops in Halifax, our exciting new Culinary Discovery Tours™ in Canada and New England invite you on chef-led adventures that explore some of my favorite epicurean hot spots in the region. As Riviera travels along the New England coastline and the Northeastern coast of Canada this fall, we set out to design a set of new Culinary Discovery Tours™ that would bring the heart of the region's culinary traditions to life and showcase the Northeast's unique ingredients, dishes and innovations. This fall, we're excited to introduce three brand new tours that dive into the local food scenes, take you on chef-curated tasting adventures and celebrate classic dishes.
Below is a sneak peek at our new tours – we can't wait to explore these culinary meccas with you this fall!
Boston, Massachusetts
Culinary Discovery Tour: Chef Insider's Tour of Boston
Enjoy the rare experience of seeing Boston through the eyes of a local celebrity chef on this epicurean adventure. Browse the colorful stalls at Boston Public Market and then spend time discovering more about the life and passions of Michelin-star chef and Boston legend Barbara Lynch as you enjoy seasonal fare and wine at two of her top Boston restaurants. This is a truly unforgettable day offering an insider's glimpse into the culinary mecca that is Boston.
Halifax, Nova Scotia
Culinary Discovery Tour: Trendy Halifax Chef-Led Foodie Tour
Enjoying a reputation as a trendy culinary destination, Halifax is bustling with artisanal breweries, restaurants and gourmet food shops. Join your Culinary Center chef and a local food expert for a unique gourmet tour, visiting local establishments selected for their inspired offerings that reflect the local food culture. Your tasting adventure in this burgeoning foodie paradise includes a savory charcuterie and wine pairing, a cider and seafood tasting, and a craft beer flight paired with Halifax's signature snack.
Newport, Rhode Island
Culinary Discovery Tour: Culinary & Architectural Jewels of Newport
Join a James Beard award-winning chef for a memorable seafood luncheon and oyster-shucking demonstration at an elegant waterfront restaurant in Newport. Enjoy a tasting of the freshly shucked oysters paired with sparkling wine as a prelude to your delectable meal. Afterwards take a leisurely drive along Newport's gorgeous coastline, spotting some of the famed mansions such as The Breakers.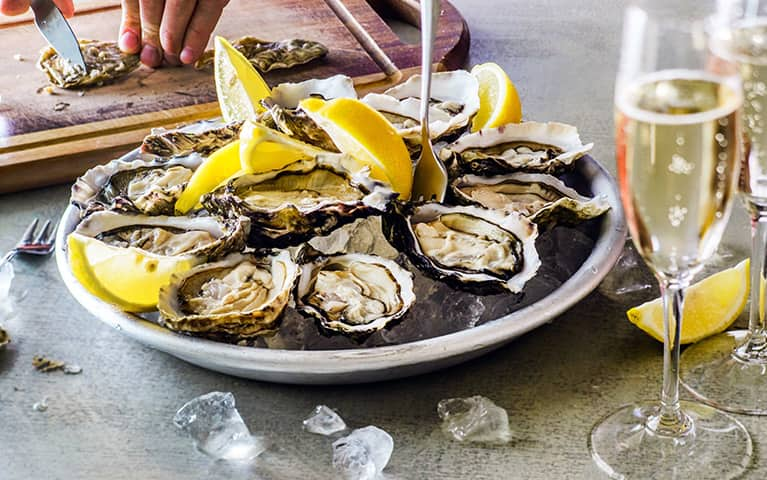 Plan your perfect culinary adventure on one of our fall New England and Canada voyages now.