Cruise Destinations - Northern Europe
Exploring the Baltic with Per Orren
Half-Danish and half-American, Oceania Club Director of Loyalty Per Orren was born and raised in the San Francisco Bay Area and has called Denmark home for more than ten years now. He's been with Oceania Cruises since 2008, leading our onboard Oceania Club Ambassadors. In this role, he loves seeing the great friendships that are formed with guests and knowing that his team helps guests make even more unforgettable travel memories.
We caught up with Per to hear his take on the best travel spots in the Baltic and Scandinavia, his top culinary experience in this corner of the world and more.
Since you are part Danish and call Denmark home, we have to ask – is Denmark really one of the happiest countries in the world?
Danes are rightfully proud to be considered the happiest country in the world. The main source of their contentment is the social welfare system they enjoy. Free health care, free education, a livable minimum wage, 37 hour work weeks, 5 weeks guaranteed vacation per year, 52 weeks of paid maternity/paternity leave per child, a sensible work/life balance, plus a strong sense of community – that all contributes to the Danes' happiness index.
What is your favorite destination in the Baltic?
Tallinn, Estonia – the old walled town is great for just wandering and admiring the charming architecture. And many times, I've walked to Peter The Great's baroque Kadriorg Palace on the outskirts of town, which is surrounded by woodlands, parks and lovely gardens.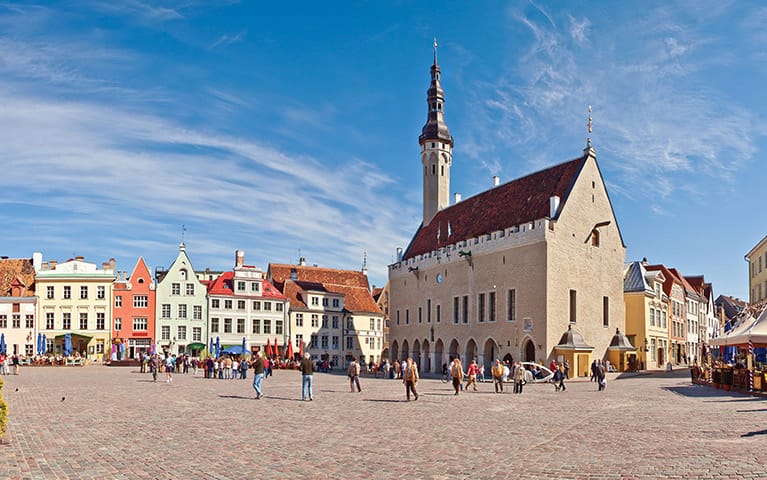 Tell us about one of your favorite culinary experiences while traveling.
Definitely dining at one of the floating restaurants in Oslo harbor. There is nothing better than peeling and eating fresh shrimp in the summer sunshine of this amazing city.
What's one piece of travel or cruise advice you would give to our guests?
Don't be afraid to stray from the beaten path. Some of my best travel memories involve venturing away from the main tourist areas and stumbling across hidden gems.
How do you spend your free time?
Since I travel so much for work, when I'm not on ships I love just being at home. I live in a fairly remote spot on a fjord in western Denmark. Believe it or not, I never get tired of the sea. I have a sailboat, so during the summer months I enjoy sailing the quite extensive waters of the fjord, which is dotted with many islands and small harbors.
Why are you passionate about travel?
I have had a passion for cruise ships and ocean liners since I was very young. I devoured every book and movie I could find on the subject. My grandparents loved to cruise and they would bring me back their daily programs and menus. As a teenager I would get visitor passes to tour the cruise ships that came to San Francisco for the Alaskan summer season. So it really is a dream come true to be working in this industry that I have loved for most of my life.
Interested in the Baltic & Scandinavia? Explore more here.