Oceania Insider - Oceania Club
2019 Reunion Cruise Memories: Adventures in Brazil and Beyond
As we get settled back in to "life after the Reunion Cruise," we can't help but reminisce about some of our favorite experiences exploring with our guests and celebrating on board during our incredible 2019 Reunion Cruise in South America. From tasting delicious wines in Uruguay to exploring lush and beautiful Brazil, we so enjoyed the opportunity to create many lifelong memories with our guests while hosting this special voyage. We especially loved hearing our guests' travel stories and about their Oceania Cruises experiences during special dinners and onboard events.
Here's a look back at some of our favorite moments. And a quick wanderlust warning – it just might make you want to sail away on one of our cruises to South America as soon as possible.
Sculpture Park & Wine in Punta del Este:
This exclusive Reunion Cruise excursion took us to Museo Ralli and Viña Eden for a fantastic parillada – Uruguayan barbecue – and a wine tasting. It was intimate and fun, combining nature, art and wine. What's not to love about that? View cruises to Punta del Este.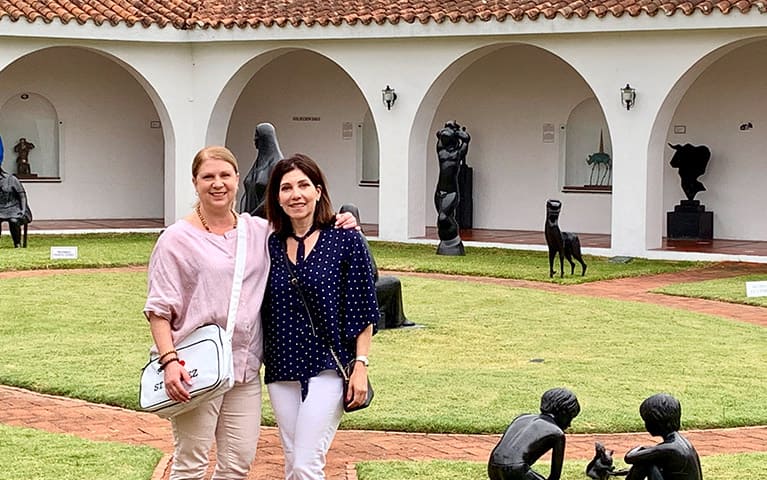 Oysters in Porto Belo:
Another amazing day. We drove to Florianópolis, a lovely city on Santa Catarina Island where we boarded a sail boat and learned all about the world of oysters. And, of course, that was followed by a lovely lunch of, you guessed it, oysters – deliciously prepared seven different ways!
Dinner Celebrations:
Throughout our cruise, we loved having the opportunity to dine and talk with so many of our guests about our itineraries, what enhancements we can make to make your cruises even more unforgettable and also hear about past adventures and travel escapades.
Rio de Janeiro Adventures:
No trip to Rio is complete without visiting Christ the Redeemer. This colossal statue of Jesus Christ is at the summit of Corcovado Mountain in the Tijuca Forest National Park overlooking the city. To say it's magical is an understatement and to be able to share this with our guests made it even more memorable. Our last day and evening in Rio was rounded out with a visit to Sugarloaf Mountain and a very special final dinner with our guests was so special.
If you haven't sailed on one of our Reunion Cruises before, explore our 2020 Reunion Cruise now and stay tuned for an exclusive post on it by our President CEO, Bob Binder next month.