Cruise Destinations - World Cruises
Around the World 2019 Event: Japanese Cultural Immersion
Acrobatic ninja stunts, graceful geisha performances and the elaborate showmanship of classical Kabuki theater are just a few of the colorful Japanese traditions our guests were treated to during our recent Around the World event in Tokyo. Upon arriving at the spectacular Hotel Gajoen, which is so lavish that it's become known as the Showa Era's "Palace of the Dragon God," guests were invited to step back in time and immerse themselves in treasured cultural traditions of Japan.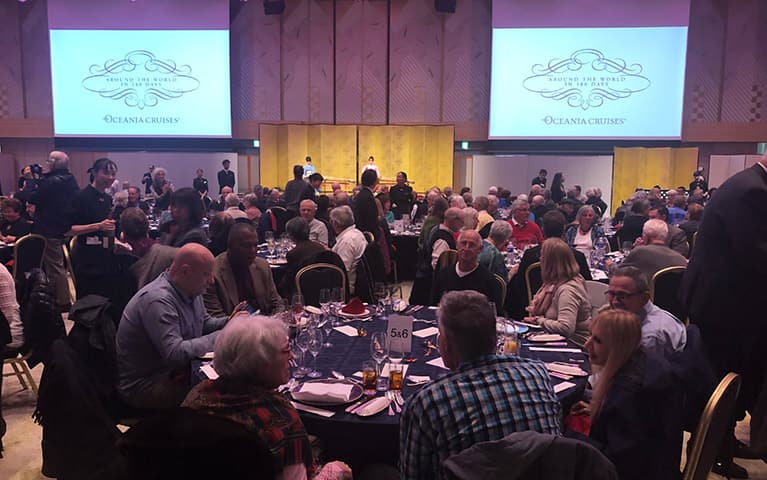 Built in 1935, Hotel Gajoen offered the perfect setting for such an event – adorned with thousands of Japanese masterpieces including extravagant paintings, intricate lacquerwork and ornate woodwork. Perfectly manicured Japanese gardens with waterfalls, koi ponds and footbridges surround the property, and the hotel has been celebrated for decades as one of Tokyo's most exclusive wedding and dining venues.
After a welcome full of omontenashi, Japanese hospitality, guests toasted to the performances ahead as they enjoyed melodious Japanese harp music and a special sushi-making demonstration. A gourmet dinner featured an array of artfully prepared dishes such as salmon piccata and caviar, pan-fried flounder with semolina and tomato sauce, sea bream with an herbed tempura and rock salt, and Japanese beef Sukiyaki-style. During dinner, guests were regaled with elegant dances by geishas with traditional music accompaniment. This was only the prelude to additional fascinating performances during a Kabuki play, a form of Japanese theater dating to the 17th century that's inscribed on UNESCO's list of Intangible Cultural Heritage of Humanity. This celebration of traditional theater was marked by elaborate costumes, dramatic makeup, traditional music and a series of performances by ninjas, samurai and dancers.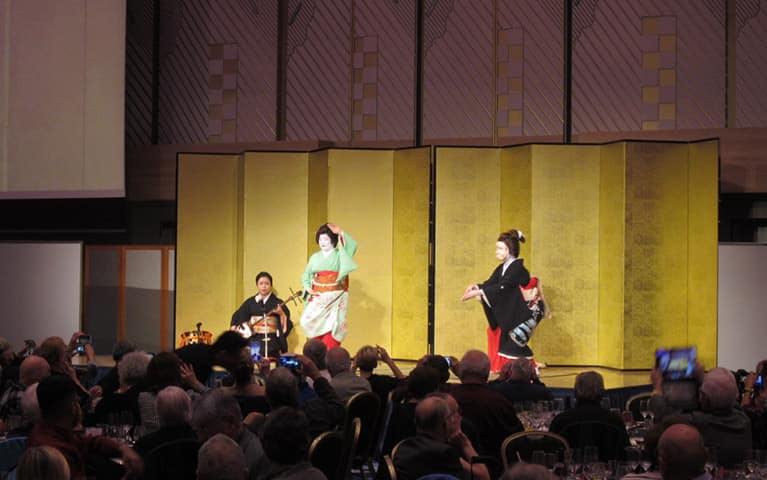 As 2019 Around the World guests continue on their incredible journey aboard Insignia, this unique and immersive evening in Tokyo is certain to be a night fondly remembered by all.