Q&A with Oceania Cruises' Bridge Director Barbara Seagram
We recently had the chance to catch up with Barbara Seagram, one of Oceania Cruises' much-loved Bridge Directors, and learn more about her and bridge aboard the ships.  An Oceania Cruises Bridge Director for the past six years, Barbara is an award-winning player and author of a number of celebrated bridge books, including the award-winning 25 Bridge Conventions You Should Know. She enjoys traveling the world and teaching bridge with her husband, Alex Kornel, appreciating the opportunity to spend time with people from so many diverse countries.
Below, Barbara shares some insight into the game, and what she loves most about bridge on Oceania Cruises.
How did you first get involved in bridge?
My first mother-in-law sent me for lessons in 1975 with my current husband, her son. He did not like the smoke – in those days – while I took to the game with a vengeance. I loved every minute of it. Eventually I re-married (a bridge player of course) and we live happily ever after!
What do you appreciate about bridge aboard Oceania?
I love the passengers that travel on Oceania Cruises. They are very down to earth, and they appreciate the bridge programs provided and soak up all of it – it's really very popular. On two of our recent sailings, we had 130 intermediate students on every sea day (19 days in total) and 45-50 beginners as well, who attended early in the morning. In the afternoons, we had 30 tables each day playing bridge, duplicate and party bridge. Imagine: 15% of passengers on the ship were playing bridge! It's wonderful.
Can you share a Barbara Seagram tip with us?
When you make a lead in bridge, you want to try to paint a picture of what else you hold in that suit. You have to give a message to your partner. If you have K642, you lead the 2. We call this leading the Bottom of Something, i.e. your partner now knows you have an honor card. If you have "nothing" cards, i.e., 952, you lead the 9. We call this leading Top of Nothing. To help you remember this important tip, think of that wonderful city in Massachusetts – BOSTON – and that is what it stands for: The Bottom of Something and the Top of Nothing. And that of course is how the city got its name!
What advice do you have for newcomers to bridge?
If you take French lessons and never use the language, you'll never learn to speak French. Playing makes it all sink in. Bridge is a game of mistakes and every time you make one, you remember not to make the same one next time. Bridge is like golf for the brain and it has been shown to stave off Alzheimer's. It can be humbling, but it is exhilarating and so much fun. Play at least twice a week and your skills will improve rapidly. Oceania Cruises offers both beginner's bridge lessons as well as intermediate, always providing top-level bridge instructors and directors.
Barbara takes pleasure in being able to continually share her expertise and enthusiasm for the game, and invites you to get involved during one of our upcoming Bridge Sailings, featuring an American Contract Bridge League accredited master instructor.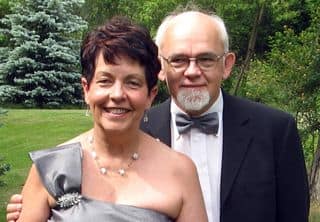 Barbara Seagram with her husband, Alex Kornel, also a bridge instructor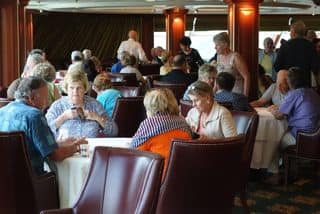 An afternoon of bridge aboard Marina during her Grand Voyage, Mythical Travels, from Lima to London