Re-Inspiration of Classic Elegance
Sometimes even the best isn't quite good enough. That's why Oceania Cruises recently launched Oceania NEXT, a comprehensive fleetwide program to raise the bar of excellence in ship design, décor, culinary programs, service and destination exploration. This January, we were thrilled to introduce a shining example of our commitment with a stem to stern and keel to funnel refurbishment of our beloved Insignia, the first of our four most intimate ships to receive a makeover so comprehensive she is virtually a new ship. It is a transformation that we call, appropriately, a re-inspiration.
Embracing the Essence of Insignia
We believe that each of our ships has a personality, so even as we sought to re-inspire the interior decor and create a new sense of place, honoring the unwavering essence of the Insignia was top of mind. She is still unreservedly the same elegant, playful and comforting ship she has always been, but with her finest features enhanced. Her journey is akin to that of transformation from chrysalis to butterfly, becoming significantly livelier and refreshingly more sophisticated. Every suite and stateroom boasts new surfaces while public rooms have been replenished with new furniture, fabrics and wall coverings. A color palette that celebrates the world's oceans and her global destinations brings in muted colors of sea and sky. From the Grand Dining Room's hand-blown Italian chandelier and Martinis' wall of custom artwork to the cosmopolitan style of the Grand Hall and the organic verre églomisé glass panel incorporated into the Grand Staircase, the Insignia has been thoroughly and tastefully rejuvenated.

Entirely New Staterooms and Suites
Every surface of each of Insignia's 342 suites and staterooms has been renewed with the contemporary and residential feel of a Newport cottage, chic Parisian apartment or sleek Amalfi villa. A lighter and brighter color palette embracing soothing taupes, silvery greys, the soft blue of the heavens and comfortable greens of the earth make each haven feel as if it is larger, while splashes of emerald and sapphire create a sense of excitement and discovery.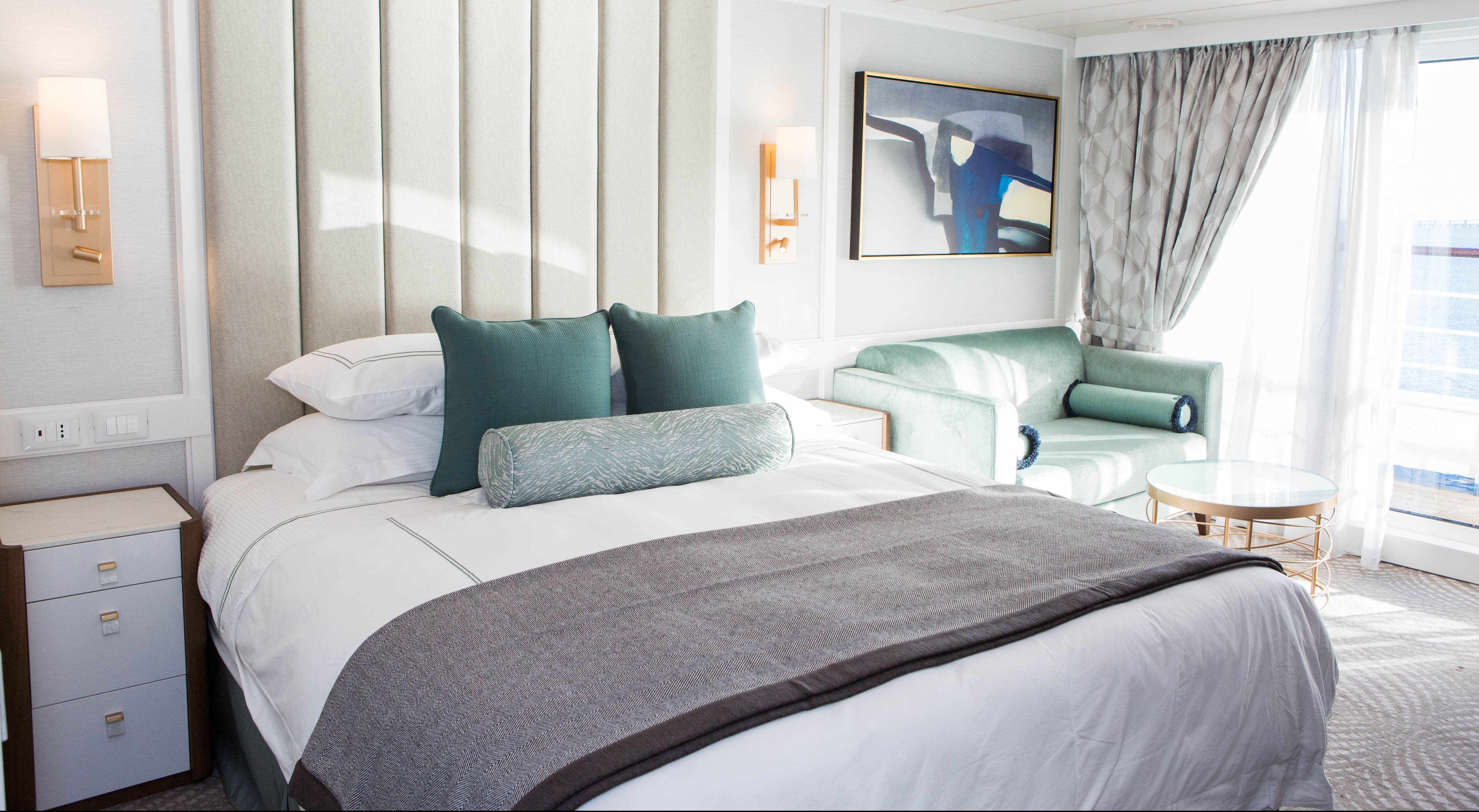 The Practical is Made Perfect
Bathrooms in suites and staterooms are entirely new, not just re-clad with marbles, granites, glass and glittering fixtures, but also redesigned in many suites to create a more contemporary layout. But in a world where custom light fixtures, bespoke carpets, Carrara marble, silky onyx, tufted headboards and custom-crafted European furniture create a sense of luxury, the practical shines as well. Commodious closets with new storage systems and thoughtfully placed USB ports for recharging electronic devices bring every convenience of home.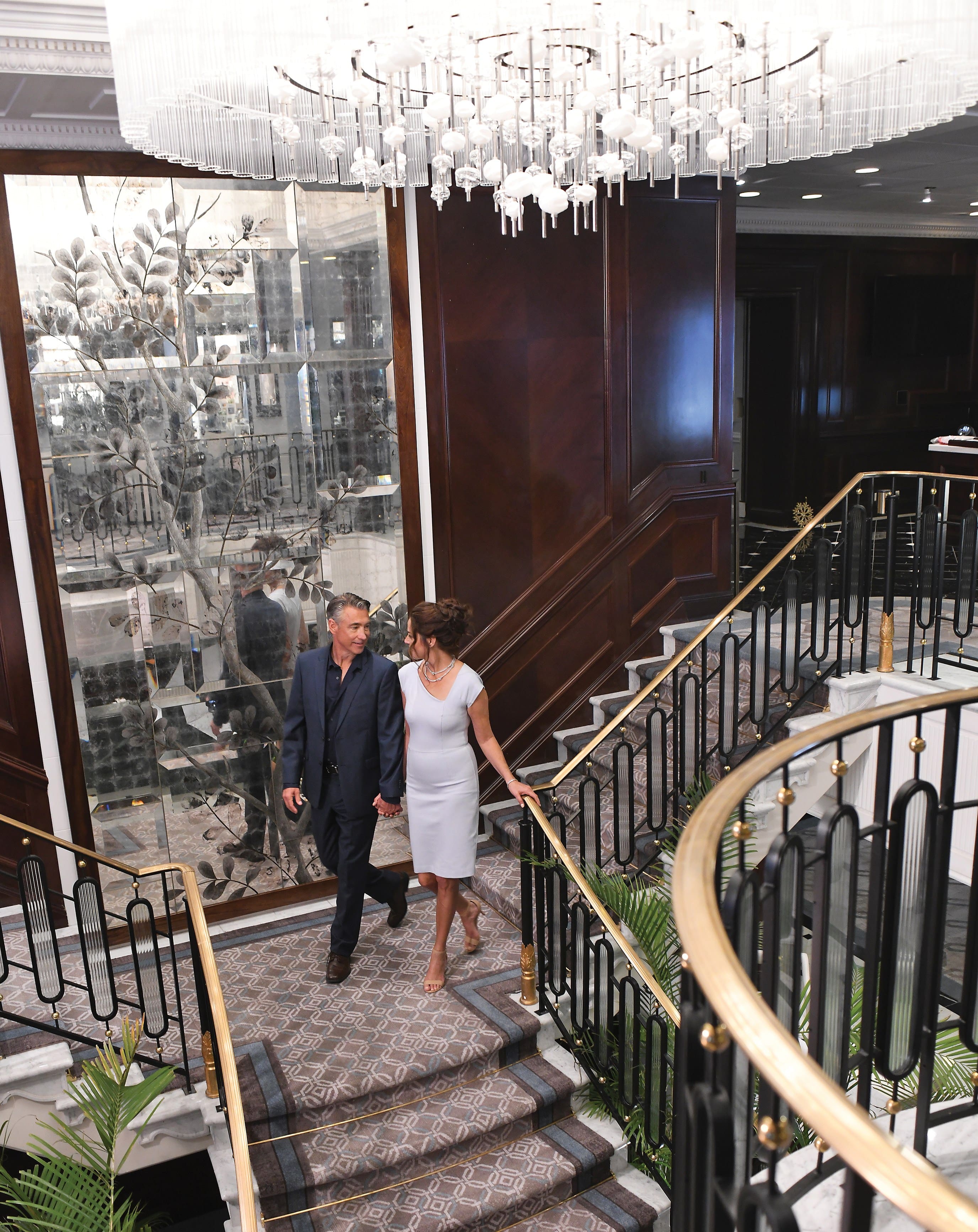 A Grand New Welcome
The first hint that Insignia is entirely new is whispered in your ear as you enter the lobby beneath a show-stopping chandelier that, although tiered in honor of the traditional silhouettes of yesteryear, is fused with a contemporary aesthetic with reeded glass elements that harmoniously play with the redesigned crystal-accented balustrades of the Grand Staircase. The heart of Insignia is airy and crisp, boasting linen millwork and fabrics from Rubelli and Kravat in soft blues, restful creams and bold charcoals. Behind the Grand Staircase, a dramatic verre églomisé wall rises, embracing a noble tree-inspired theme that subtly references prosperity and growth.
A Venue Worthy of the Cuisine
Whether a past or future guest, you no doubt have come to understand Oceania Cruises' unwavering passion for cuisine, and after its re-inspiration, the Grand Dining Room has become the ultimate showcase for the culinary arts. The inviting room's dazzling centerpiece is a gleaming chandelier designed by acclaimed Studio DADO with hand-blown teardrops of Italian glass. Chic new chairs are even more comfortable than those they have replaced and Rubelli fabrics, new carpeting and fresh window coverings reveal a lighter, brighter palette.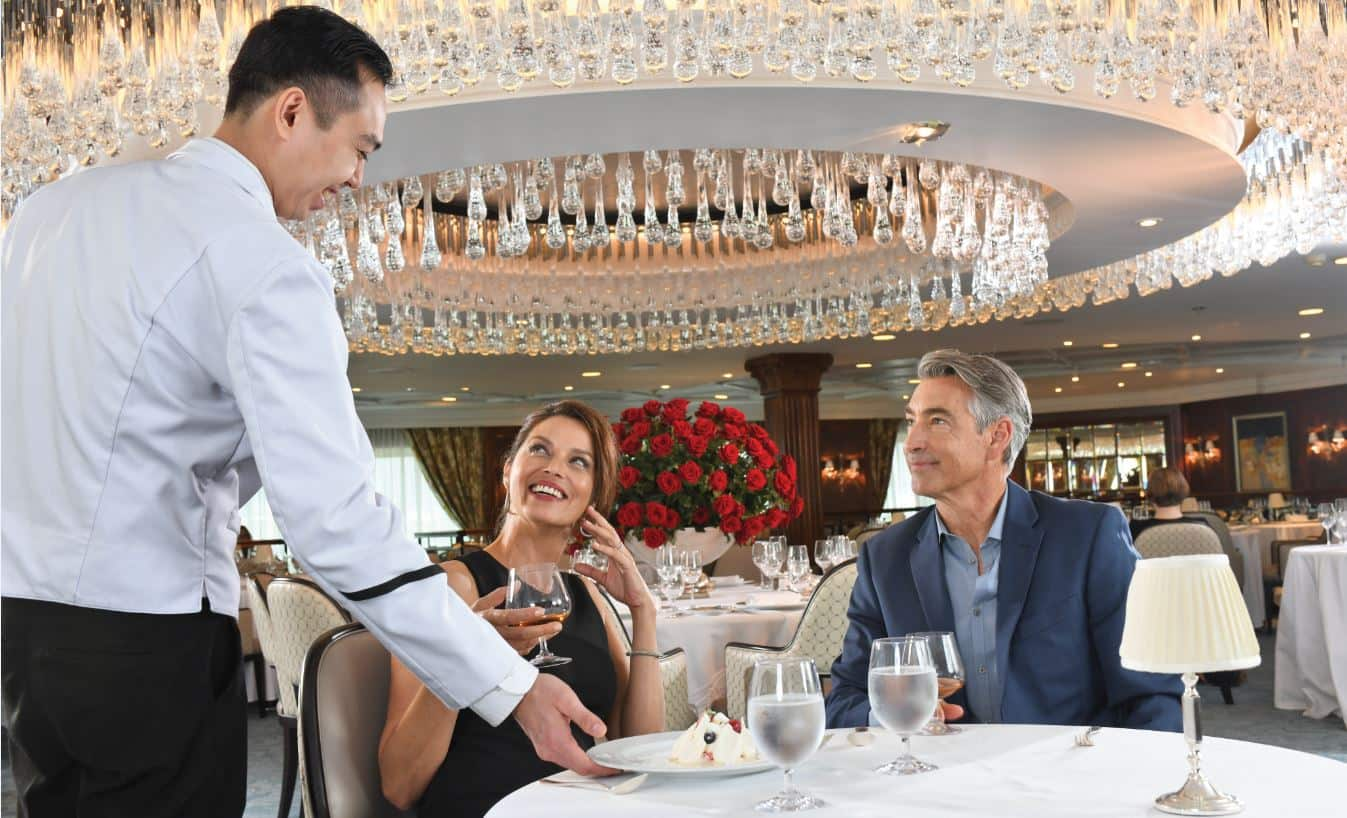 The Art of Cuisine
In addition to the physical surroundings taking on new life, re-inspired menus offer artisanal local ingredients and curated regional wines in a bold move to enhance our cuisine with the flavors, spirit and joy of our destinations. Dishes are both familiar and innovative, inspired by our quest to present The Finest Cuisine at Sea™. Fresh coconut from Bora Bora makes its way into a delightful dessert, local French cheeses magically appear tableside and salmon caught that morning is transformed into a blackened Cajun dish with peach and saffron chutney in Polo Grill that evening. A fruity Australian Riesling holds court with soy roasted pork while a bold and hearty port finishes a meal enjoyed in view of the twinkling lights of a Portuguese fishing village.
An Inviting Club
Martinis, the beloved gathering spot for cocktails, conversation and camaraderie, has taken on a refined and refreshed look with a unique angular lighting fixture, custom-milled carpets and updated European furniture. Designers were inspired by the stunning coastline of Santorini with deep Grecian blue and volcanic sienna tones enlivening rich chocolate leather and stately pewter. The warm walnut paneling remains, highlighted by the bar's new tobacco quartz and splashes of pearlescent, smoky white marble accents. A hand-blown glass wall, representing the distinctive silhouette of barnacles, was hand-installed by Artist Michael Skura, who created each unique piece in his California studio.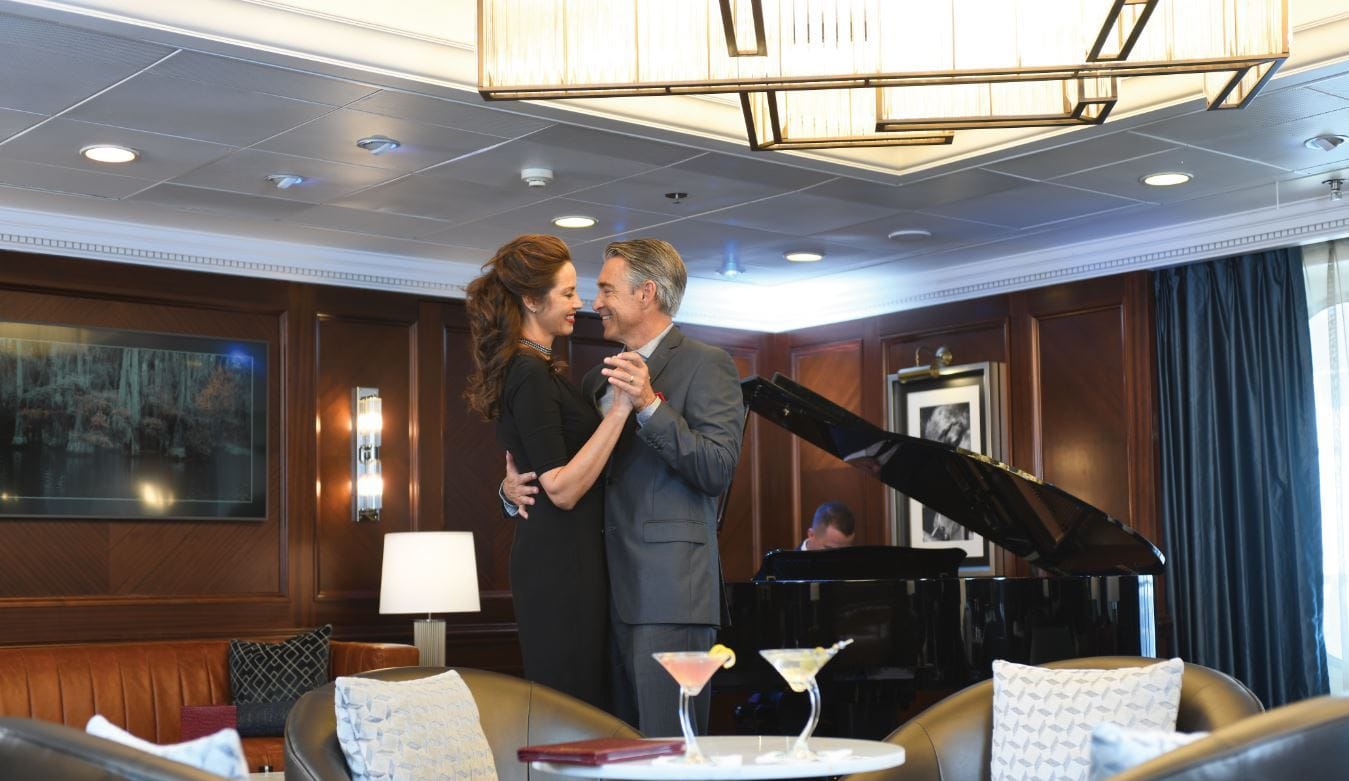 New Touches and a New Look
New touches abound, from furnishings by Baker and Donghia to striking new art, fabrics and carpets. For example, Toscana, our specialty restaurant celebrating Italy's passion for the palate, has been updated with deep ruby reds, contemporary black and white artwork and a soothing rustic brown, all of which combine to evoke a fiery sunset washing across San Gimignano's medieval towers.
Preserving Perfection
While most of Insignia has been imbued with a new look, we have preserved that which was already perfect in its prior form. The Library, a cherished enclave reminiscent of an English country house, has been left untouched save for a renewal of fabrics here and there. While sleeker furniture and an airier atmosphere emanates from the use of lighter colors in the public spaces, the classical form of the intricate millwork remains as a tribute to the timeless elegance of Insignia's destinations and the comforting brilliance of her original design.
More to Come
While Insignia is the first of our ships to be re-inspired, she certainly isn't the last. Both Regatta and Sirena will take on a new, breezier personality in 2019 with Nautica joining the party in 2020. In one sweep, our four coziest vessels will move from a warm, gentle glow to a sophisticated and inviting sparkle.