Introducing Dom Pérignon Champagne Dinners
Champagne. It's a word that evokes a smile, an anticipation of something special and the warm glow of celebration. Like no other beverage before or since, Champagne has come to define the most captivating, jubilant and extraordinary moments of our lives. While we serve ample amounts of Champagne aboard our ships while roaming the globe, we knew there was more to the story. How, we asked ourselves, do we take the pure, glorious and unfettered joy of Champagne and create a culinary event worthy of the bubbly nectar itself? Oceania Cruises is proud to introduce the Dom Pérignon Experience at La Reserve, an inspired partnership with Dom Pérignon, a brand not just synonymous with the finest Champagne on earth, but also whose namesake is often credited with inventing this heavenly libation in the late 17th and early 18th centuries.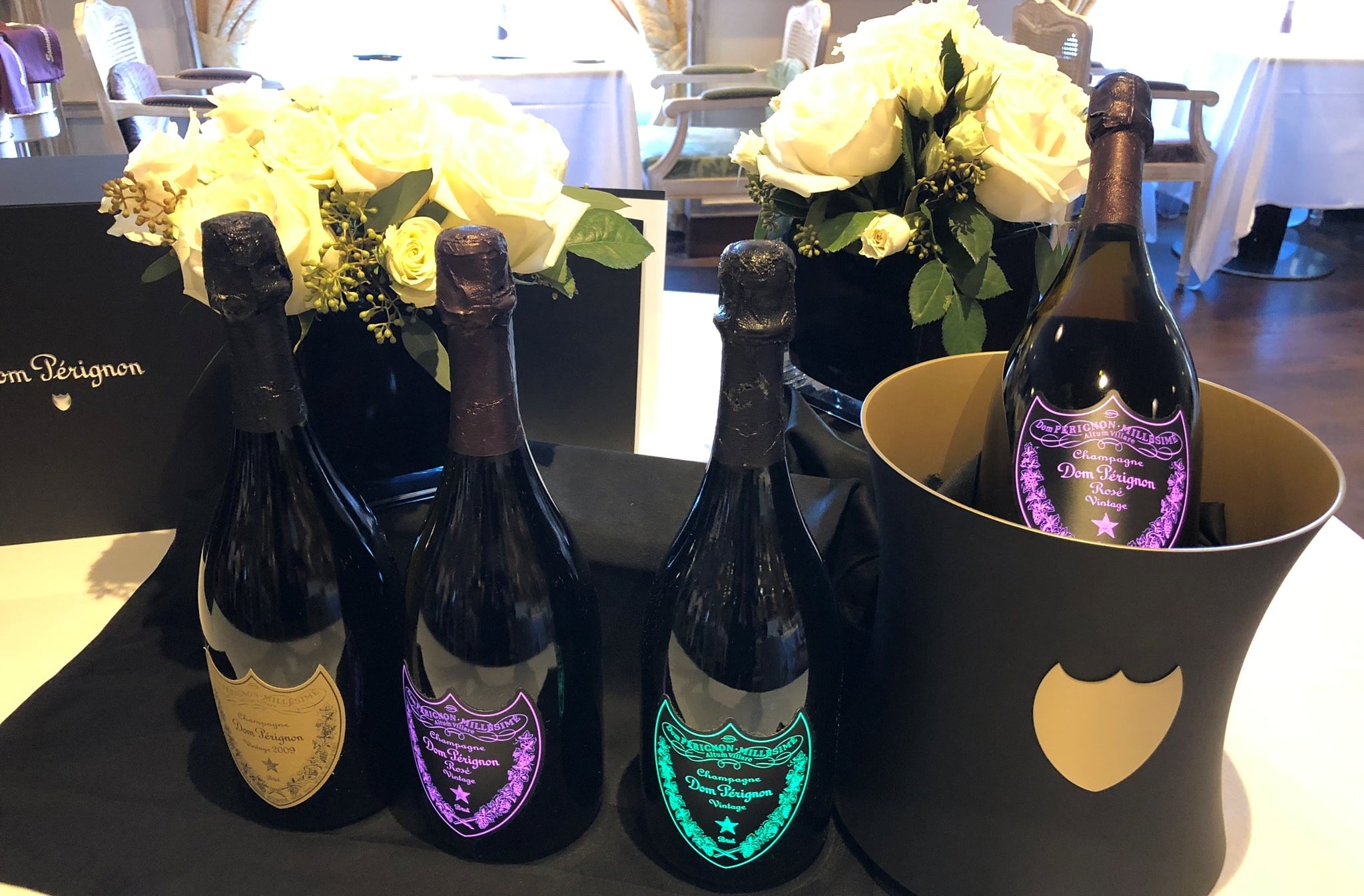 A Partnership Over 300 years in the Making While it's a bit of a myth that the reclusive monk Dom Pérignon actually invented Champagne, the idea that he perfected the process by which it comes to life is undisputed. Such was the holy man's dedication that Moët & Chandon, keepers of the Dom Pérignon legacy, is universally regarded as the premier producer of sparkling wines in the Champagne region of France. From tackling the challenges of refermentation to pruning vines to ensure higher quality harvests, Dom Pérignon's passion for sparkling wine is legendary. While Oceania Cruises' peerless commitment to offering the Finest Cuisine at Sea™ is also well-known, it took an inspired partnering of Oceania's corporate chef Franck Garanger and the executive chef of Moët & Chandon's La Maison Dom Pérignon, Marco Fadigo, to combine both superlative experiences into a six-course gustatory indulgence that is working its way onto the bucket list of those who appreciate and celebrate the finer things in life.
Selecting the Best Vintages After debuting this January in La Reserve aboard Marina and Riviera, the Dom Pérignon Experience has already become a must-have meal for every connoisseur of Champagnes and all true gourmands. The evening is so extraordinary, it is offered only once per voyage. The concept is simple, but the execution is divine. First, we have selected three of Moët & Chandon's most acclaimed vintages. Unlike lesser sparkling wines, Dom Pérignon is a Champagne renowned for vintages which only improve with age. After careful consultation with our partners in France, Dom Pérignon vintages from 2009, 2006 and 2004 are the stars, the latter an intriguing and immensely satisfying rosé.
Celebrating the Nuances of the Grape The Dom Pérignon Experience is a six-course tasting menu, shared with no more than 24 enthusiasts in La Reserve for $295 per person plus gratuities. Each of the three Champagne vintages is effortlessly paired with two courses which are specifically crafted to bring out the nuances of the grapes and the ratio of the blend, playing off every aspect from subtle, effervescent nose to lively, satisfying finish.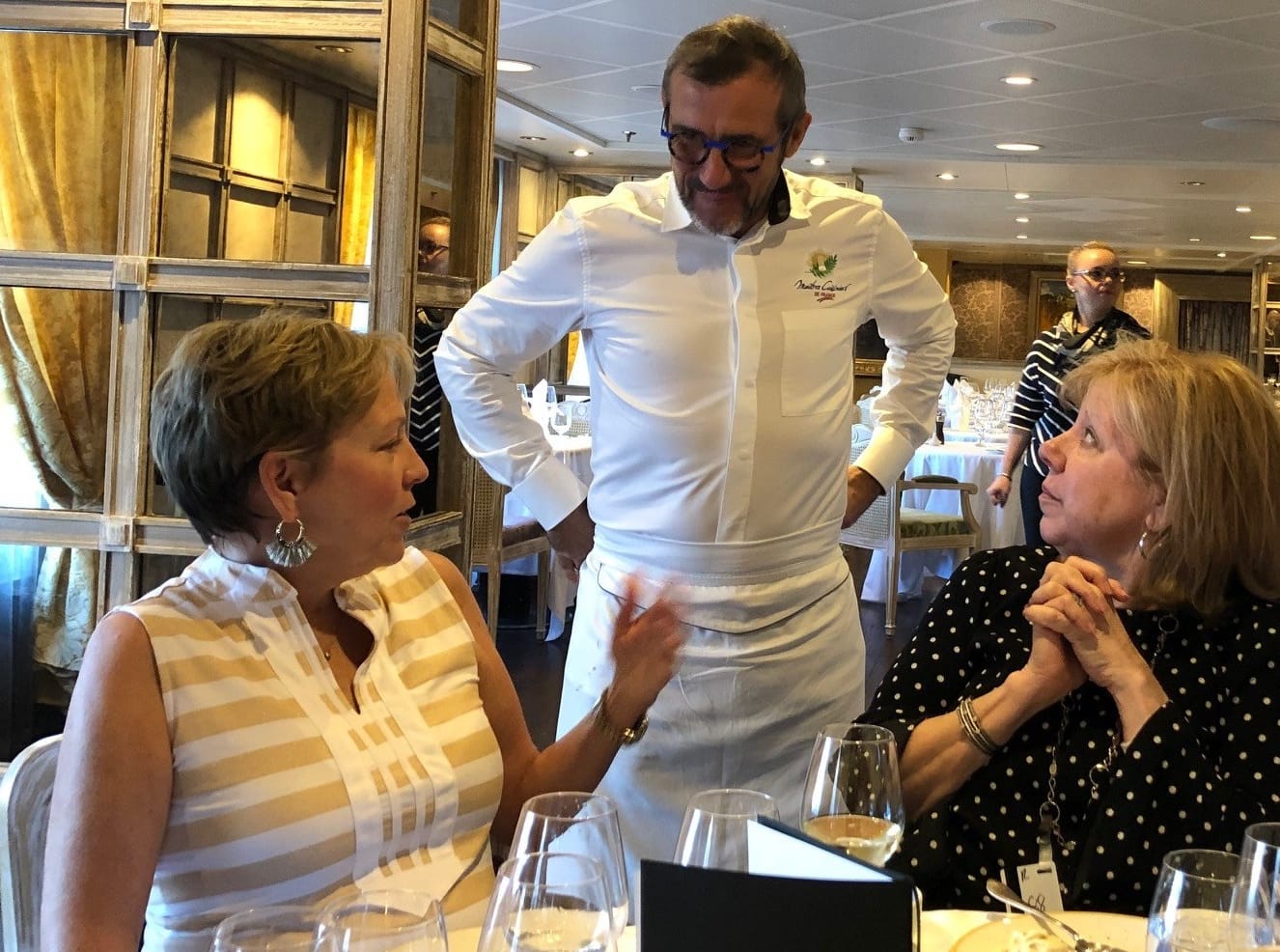 An Intricate Dance of Flavors Each dish of the tasting menu is prepared à la minute and lovingly created to complement the Champagne with which it is paired. Imagine scallops Rossini, mole negro and roasted pineapple accompanying Dom Pérignon 2009, the mole sauce lending extra body to the bubbly while the Champagne itself cuts through the richness of the dish. In celebration of the varied personality and many moods of the 2009 vintage, it complements the refreshing sixth course composed of sakura tea "geisha flower" ice cream and lemon caviar which, in turn, brings out the Champagne's surprising finish with its hint of saltiness and delightful undertones of caramel.
Each Course a Triumph Imagine a Dom Pérignon 2006 paired with Brittany blue lobster in yellow curry broth as well as coco foam and then, to show the diversity and universal appeal of the vintage, balanced in the next course with black truffle risotto and aged parmesan. In the former, the Champagne honors the shellfish selection while in the latter, the crispness of the vintage soothes the palate's response to the richness of the risotto.
A Rosé for the Ages
Perhaps the most intriguing aspect of the tasting menu is the Dom Pérignon 2004, a playful rosé that tempers the boldness of a course of seared wagyu beef prepared sashimi-style that is served with sautéed arugula, blood orange-soya jus and caviar perlita. However, this delicate rosé is not as subtle as it might seem, more than holding its own when served with a French A.O.C cheese plate presented with black currant-pepper paste and a thyme flower.
Overflowing Bounty Unlike many tasting menus which offer petite portions more akin to an amuse-bouche, the Dom Pérignon Experience offers appropriate servings that allow for enhanced enjoyment of the flavor pairings and Champagne characteristics. Much more than a novelty, our Champagne-pairing dinners are a hearty and elegant fête of earthly pleasures. Glasses are refilled without the need for even a nod to the attentive staff, creating a value proposition second to none. While individual glasses of these Dom Pérignon vintages might carry a price tag of $40 or more, their generous inclusion in the overall tasting experience are a refreshing and welcome discovery.
Dom Pérignon Remains the Gold Standard In a world where even luxury goods are mass-produced, the bespoke nature of Dom Pérignon stands apart. Other Champagnes, which by definition hail from what is possibly France's most celebrated wine region, are blends of up to five grapes and are produced each year, year in and year out. Dom Pérignon is produced not just from the blend of only Chardonnay and Pinot Noir grapes, in fact it won't be produced at all in any given year if, in the estimation of Moët & Chandon, that year's grapes are not up to the high standards that have defined Dom Pérignon for three centuries. Commercial production always takes a backseat to perfection at Moët & Chandon.
[wpvideo 9BU5pNbI]
A Night to Remember La Reserve is a charming, cozy and welcoming space with flashes of sophistication and sparkle, the perfect venue to host the Dom Pérignon Experience. It is also a reminder of Oceania Cruises' dedication to making ordinary events extraordinary, of taking an everyday routine and turning it into once-in-a-lifetime moment. While our paired Champagne tasting menu is not just cause for celebration but the perfect complement to any merry occasion, it transcends even this lofty role. Champagne itself is a celebration and in true French spirit, the bubbling, satisfying manifestation of joie de vivre. At Oceania Cruises, we believe it is life itself that is worthy of a flute of Champagne.